There are formulas for writing jokes. Experienced joke writers go through a systematic process to turn something like a news item into a sentence or two that will make people laugh.
You may have heard that "Writing is rewriting." That describes only part of the process. Writing a joke is first thinking of what to write, then slapping together a rough draft, and only then rewriting to maximize the laugh.
Here's the process I went through recently to write a joke for Twitter.
The idea for the joke starts with this news headline:
"Giant African Snails Seized at Los Angeles Airport"
I have an emotional reaction to the headline—"That's weird"—which alerts me that the news item might be of general interest and worth exploring as a joke Topic.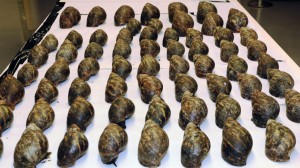 The news item also feels promising because it has two handles–"snail" and "Los Angeles"—each of which has several well-known associations. That means there's a great chance I can create a solid Punch Line from the associations. "Snail" has associations like "slimy," "slow," and "French people eat them." "Los Angeles" has associations like "smog," "traffic," and all the individual celebrities.
To generate a Punch Line I focus first on the well-known "snail" association "slow" and ask myself which slow people are commonly associated with Los Angeles. I can't think of any only-in-LA slowpokes so I expand my list of associations to include workers in general.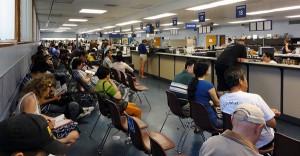 To spark ideas I Google "slow workers," which reminds me of the DMV. Ah-ha! Now I have the basis of my Punch Line: I'll link snails with DMV employees using their shared association "slow." The result is this:
Partial Rough Draft: "Giant African snails were seized at Los Angeles Airport…workers at the DMV."
To complete my rough draft I need an Angle that connects my Topic and Punch Line smoothly and efficiently. So I add an Angle that explains how the snails became workers at the DMV and get this:
Rough Draft: "Giant African snails were seized at Los Angeles Airport. Instead of destroying them, officials gave them jobs at the DMV."
I use the word "officials" a lot in topical jokes. It suggests authority figures but isn't specific enough to be distracting.
So that's my rough draft. That was writing, wasn't it? So much for writing being rewriting. Now comes the rewriting.
I add "live shipment" to clarify that these creatures are animate and could conceivably perform some kind of work. I add "67" because that detail from the news story subtly reinforces that this incident actually occurred. I remove "African" because it's distractingly specific and unnecessary for the joke. I repeat "snails" in the Angle because it's so crucial to making the Punch Line work. And this version results:
Version #2: "A live shipment of 67 giant snails was seized at Los Angeles Airport. Instead of destroying the snails, officials gave them jobs at the DMV."
That version could still use a little tweaking. I backload the Topic, moving the most important elements closer to the Punch Line. I add "customs inspectors" to get rid of the passive voice and to clarify why the snails were seized and might be destroyed. And I get this final version: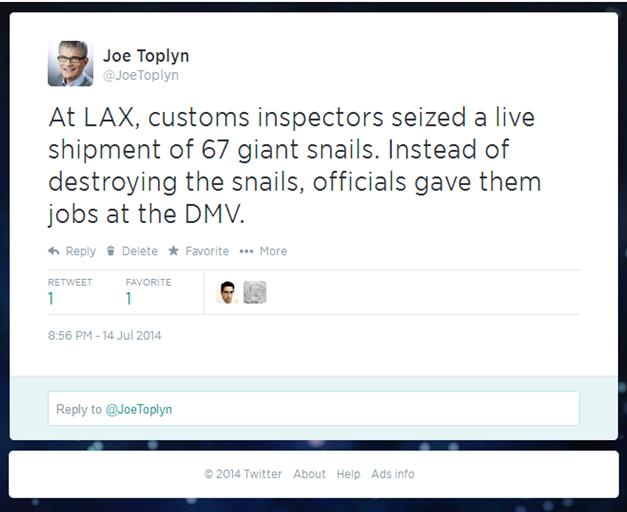 Abbreviating the name of the airport took the joke down to exactly 140 characters, Twitter's limit. That meant I didn't have to waste more time, and possibly weaken the joke, trimming it to fit.
Before posting the joke I subject it to some Comedy Quality Tests. One of the tests gives me pause: Is the joke too familiar? Is making fun of slow DMV employees similar to making fun of airline food–too hacky? I decide that the joke is so effective that the laugh will blow away any possible whiff of hackiness. Copy and paste to Twitter.
For more on how to write jokes and other short-form comedy, buy my book Comedy Writing for Late-Night TV.