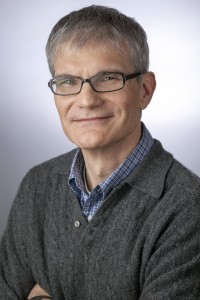 I graduated from Harvard with a Bachelor of Science degree in Engineering and Applied Physics. I also have a Harvard MBA. So how did I end up writing comedy for television?     I've always enjoyed making fun of things and putting words together. So back in college I joined the Harvard Lampoon. A highlight: with most of the Harvard community against the Vietnam War, I arranged for the Lampoon to parade hawkish screen legend John Wayne into Harvard Square on an armored personnel carrier.
The stunt was reported by the media all over the world and gave me a tantalizing taste of working in show business. But in those pre-Saturday-Night-Live days it took me a while to realize that a career in comedy might even be possible.   After getting my MBA I worked for General Foods, marketing Cycle Dog Food. The most fun I had there was meeting my future wife at a dog Frisbee-catching contest in Manhattan's Battery Park. (It was a classic meet-cute: she worked on Cycle Canned and I worked on Cycle Dry.) Meanwhile I took a small step toward a career in TV by writing a spec episode of the light detective show Hart to Hart.
I took another step towards TV writing by getting a job at Columbia Pictures, but as a financial analyst I was in the right circus, wrong tent. (Trivia: I was a member of the small group that created Tri-Star Pictures.)   Then a friend from the Lampoon, Jim Downey, called. He generously invited me to submit a writing sample to Late Night with David Letterman, where he was head writer. The show had been on the air for less than two years but Jim and several other writers were planning to leave.   My understanding wife of four months supported my attempt to make the drastic career change. We agreed that if the TV comedy thing didn't work out, I could put on a suit again, plead temporary insanity, and slink quietly back into the business world. I got hired onto Late Night and about a year later we writers won our first Emmy. Still, the real prize to me was having a steady job that I loved.
Three more Emmys followed but I eventually developed a strong urge to write longer-form comedy. I moved my family to Los Angeles. There I landed a series of staff positions, writing for the sketch show In Living Color and the situation comedies Doctor Doctor, Hangin' with Mr. Cooper, Charlie Hoover, and Scorch. (You all remember that show about the talking dragon, right?)   Unsatisfied, I returned to the arms of the woman who brought me to the dance, comedy/talk shows, and became co-head writer of The Chevy Chase Show. The show was cancelled in less time than it took to type this sentence. But fortunately I was able to jump to a co-head writer slot on The Tonight Show with Jay Leno. (For a behind-the-scenes look at my adventures there, read my book Comedy Writing for Late-Night TV.) While I was on staff, the show won an Emmy for Outstanding Variety, Music or Comedy Series.
For family reasons we Toplyns relocated back to New York, where I joined Late Show with David Letterman as its head writer. Years later I migrated into daytime as head writer of The Caroline Rhea Show and into cable as a writer/producer on the comedic detective show Monk. (At Monk I would have pitched the murder idea I used in my Hart to Hart spec script but the show had already done a parachuting episode.)
Since then I wrote that book I mentioned and founded a startup, Twenty Lane Media, LLC. Our first tech product exploits my experience in comedy and also engineering. It's Witscript (U.S. Patent Nos. 10,642,939; 10,878,817; and 11,080,485), the first artificial intelligence to ad-lib real jokes.
I have two wonderful sons and live in Westchester County, New York, with my amazing wife.