Ideas get stolen in show business all the time but less often than you might think.
I teach a class in comedy writing for late-night TV. A couple of nights ago I was giving my students some practice in turning newspaper articles into monologue jokes. Toward the end of the session I mentioned an article with the headline "Ladykillers: Hurricanes with female names may be deadlier." I suggested that a joke based on that story might go something like this:
"Researchers at the University of Illinois say that hurricanes with female names may be deadlier. The researchers are particularly worried about the next hurricane, Solange."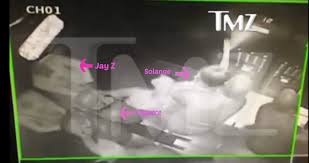 The next day I Googled "late night jokes" to see a sampling from the previous night's monologues. Here's a joke that Seth Meyers told on "Late Night" the same night I taught my class:
"A new study shows hurricanes with female names are more fatal because people subconsciously assume that they are less dangerous. Though I'd bet people would evacuate pretty quickly for Hurricane Solange."
If I were a freelance writer who had emailed my hurricane joke to "Late Night" and then watched that night's monologue, I might have been outraged. The show stole my joke! But the fact is, professional monologue writers on different shows inadvertently write similar jokes all the time. But given all the thousands of possible topical jokes that can be written each day, how can that happen?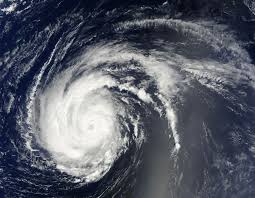 It can happen because all the writers on staff at all these shows use the same formulas to write their jokes. In the case of the hurricane joke, that news story had all the characteristics that a professional writer wants to see in a joke topic. For example, the story was likely to capture most people's interest and nobody died.
And the punch line involving Solange was created using a proven pro writing technique: linking an association of the topic—"dangerous females"—with a high-profile event in pop culture—Beyonce's sister assaulting Jay Z in an elevator.
So just because two late-night hosts deliver similar jokes doesn't mean that some writer is a thief. It means that both shows' writers are working from the same playbook.
For more about that playbook read my new book Comedy Writing for Late-Night TV.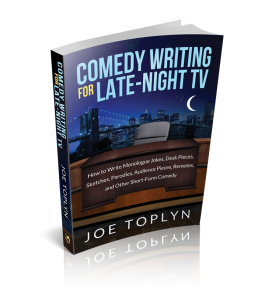 Postscript added October 4, 2014
Here's more evidence that professional comedy writers use the same playbook. Yesterday afternoon, October 3, 2014, I posted this joke on Facebook and Twitter:
"Teresa and Joe Giudice of Real Housewives of New Jersey are going to prison. So now Mr. Giudice will also have a chance to be a housewife."
Later that evening, Jimmy Fallon told a few monologue jokes on Tonight that culminated with this one:
"And Teresa's husband, Joe, was actually sentenced to forty-one months in prison. But on the bright side, now he'll get to be someone's housewife."
Those virtually identical jokes were written using my book's Punch Line Maker #1: Link two associations of the topic.
Post-Postscript added January 20, 2015
Here's even more evidence that professional comedy writers all use the same techniques for writing jokes. Yesterday I posted this joke on Twitter and Facebook :
"The NE Patriots are accused of using deflated footballs in a game. But the Patriots insist that their only deflated balls came from steroids."
A few hours later, Jimmy Fallon delivered a joke on Tonight about the same topic that ended with basically the same punch line:
"The first time there's been a sports controversy about deflated balls that doesn't involve steroids."
Both of those punch lines sprang from my book's Punch Line Maker #4: Find a play on words in the topic.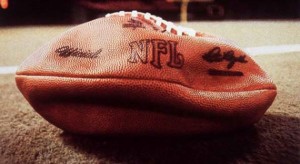 But notice that my version of the punch line takes a shot at the Patriots. The Tonight version not only doesn't refer to the Patriots, it doesn't even refer to professional football, despite past scandals involving steroid use by NFL players.
Why did Tonight take that more conservative approach to the joke? Possibly because the writer and producers heeded my book's Comedy Quality Test #2, which states: "Imagine the host delivering the joke." A Patriots version of the punch line may have seemed too mean, and therefore out of character, for Jimmy Fallon.
And any NFL punch line may have made it tougher to book NFL players on Tonight. Comedy/talk shows need comedy, but they also need high-profile guests for the "talk" part.
Post-Postscript added March 8, 2018
And this article describes a particularly extreme example of the phenomenon I'm talking about. On March 7, 2018, five late-night hosts told essentially the same joke about President Trump and porn star Stormy Daniels.