AVAILABLE FOR INTERVIEW
CONTACT JOE: joetoplyn@joetoplyn.com
GO BEHIND THE SCENES OF LATE-NIGHT TV
Joe Toplyn [TOP-lin] has written and produced comedy/talk shows for over fifteen years. He began his television career on the writing staff of Late Night with David Letterman, where he won four Emmy awards. He went on to become co-head writer of The Tonight Show with Jay Leno and head writer of Late Show with David Letterman. His other TV writing credits include the sketch show In Living Color and the comedic detective show Monk. He is the author of Comedy Writing for Late-Night TV.
---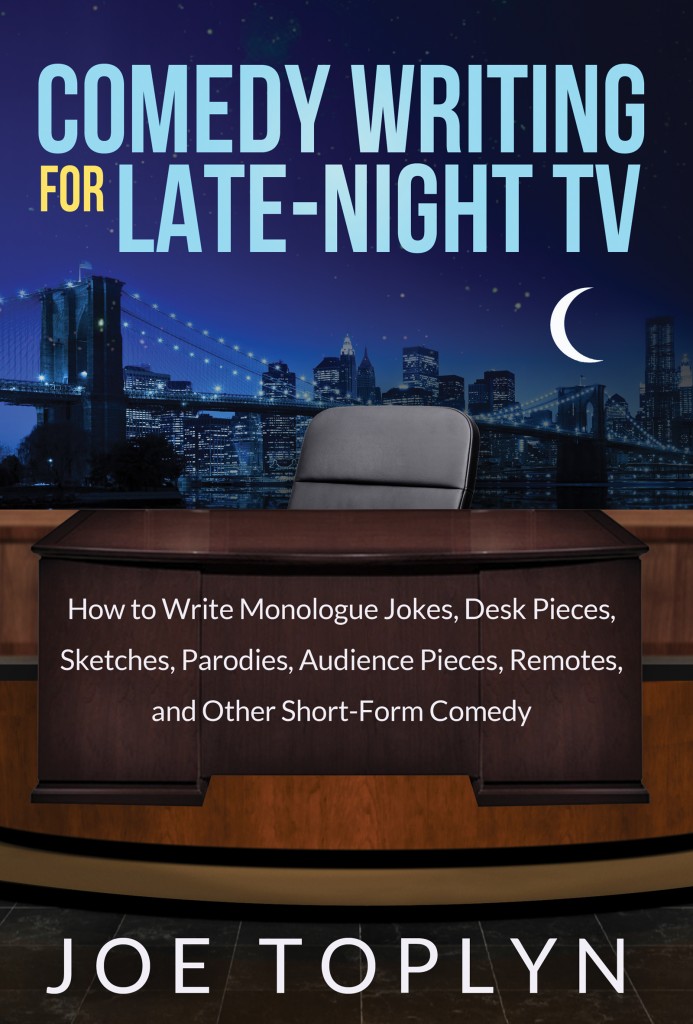 Comedy Writing for Late-Night TV is the first book ever written about the subject. Joe Toplyn reveals his proven methods of writing for late-night television in this one-of-a-kind insider's guide.
Joe analyzes each type of comedy piece in the late-night TV playbook and takes you step-by-step through the process of writing it. This comprehensive manual is packed with detailed tips, practical techniques, and hilarious behind-the-scenes anecdotes.
Comedy Writing for Late-Night TV is available at bookstores everywhere and at Amazon.com. If you're a media person and you'd like a copy please contact Joe at joetoplyn@joetoplyn.com.
Joe Toplyn is available for interviews by phone, by video chat, and in studios in the New York area.
---
Sample Interview Questions for Joe Toplyn,
Author of Comedy Writing for Late-Night TV
1. You have a Harvard MBA. How did you go from business to comedy? (Answer takes 1 minute)
2. Who was the most fun to work for, David Letterman or Jay Leno? (30 seconds)
3. How did you almost accidentally set David Letterman on fire…twice? (1 minute)
4. What's this about the police in Hollywood catching you and Jay Leno with a couple of prostitutes? (1 minute)
5. You were in a taxicab with Jay Leno and you almost died? (30 seconds)
6. Why did you climb up to the Hollywood Sign with Charlie Sheen and a gorgeous blonde masseuse? (30 seconds)
7. How did you come up with Jay Leno's Mr. Brain character and why was it so important? (1 minute)
8. In the beginning The Tonight Show was losing big to Late Show in the ratings. How did Jay eventually steal the late-night crown from Dave? (1 minute)
9. O.J. Simpson murdered two people. Why was that great news for The Tonight Show? (1 minute)
10. Was there ever a time when the writers of The Tonight Show or Late Show crossed the line of good taste? (1 minute)
11. How do late-night comedy writers come up with new ideas every day? (30 seconds)
12. What are Joke Maximizers? How can they make any joke funnier? (1 minute)
To schedule an interview,
contact Joe at joetoplyn@joetoplyn.com
---
Click here to see Joe Toplyn on HuffPost Live. (3:33)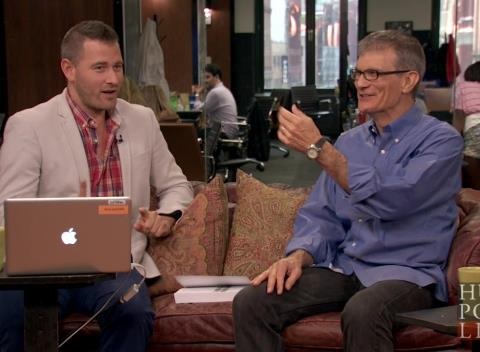 *****
Click here to hear Joe on "Pop Culture Tonight." (15:50)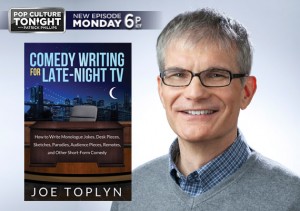 *****
Click here to see Joe on "Great Day SA." (5:09)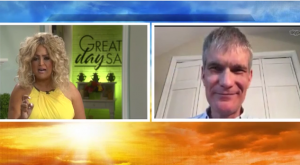 *****
Click here to hear Joe on "Art Howard at Night" (1:24:37)
*****
Click to hear Joe on "There It Is" with Jason Farr. (1:00:03)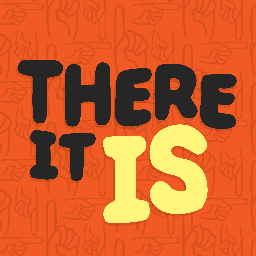 *****
Click to hear Joe on the Harvard Alumni Entrepreneurs podcast, "HAE Invites," talking about comedy as a business. (50:30)

*****
Click to hear Joe chatting with Mike Barlow on "Paid by the Word" about some tools for writing jokes and other short-form content. (26:30)