A lot of people think the Internet has fundamentally altered the nature of late-night comedy/talk shows.  But I don't.
Take the article by Jason Lynch in The Daily Beast last April that sports this headline and subhead:

For one thing, "that time slot after the local news" does matter. It matters a lot. Only people who watch a show on TV get counted in the ratings. People who only watch clips online don't.
High TV ratings result in big money from TV advertising. But even millions of views online don't result in much money at all.
So "that time slot after the local news" is vitally important.
For another thing, late night is not "all about YouTube, Twitter, and engaging with audiences on the Internet." That's the same as saying late night is "all about getting audiences to watch your promotional comedy clips on the Internet."
But late night has never been "all about" getting audiences to watch your promotional clips.
Instead, late night is, and always has been, "all about" having great short-form comedy pieces on your show in the first place.
The fact that you can use those great comedy pieces to create great promotional videos for your show is secondary.
And the the fact that audiences can now watch those promotional videos on the Internet in addition to watching them on primetime TV doesn't qualify as a hijacking.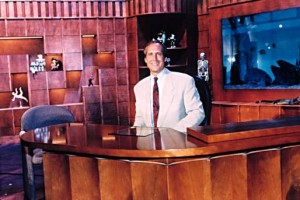 Here's an example of how late-night TV worked before the Internet. When I was co-head writer of The Chevy Chase Show our main goal was not to create viral videos—a good thing, because the Internet as we know it didn't exist.
Our main goal was to create funny comedy pieces under about five minutes long–Internet-sized, as it turns out–to fit between commercial breaks.
That's why we aired this hidden camera prank involving Chevy at the Hollywood Wax Museum.
Even if we had had the Internet, we would have shot the same comedy piece.
Sure, if the Internet had been available that video probably would have gone viral online and given the show a nice promotional boost.
But the promotional effect would have been a side benefit, not the main reason for doing the piece.
The main reason was to put on a good show.
Learn how to create short-form–Internet-sized–comedy pieces in my book Comedy Writing for Late-Night TV.