A lot of people hate puns. They think puns aren't funny. And often they're right.
That's because many puns lack one or more of the characteristics of a good joke.
For example, here's the pun that, as I write this, has received the most votes on OneLineFun.com: "I'm glad I know sign language, it's pretty handy."

The reason that joke isn't funny is because its topic—"I'm glad I know sign language"–isn't true.
A good joke topic is true.
If you start a joke with a topic that your audience doesn't believe, they'll be focusing on that lie instead of paying attention to your joke.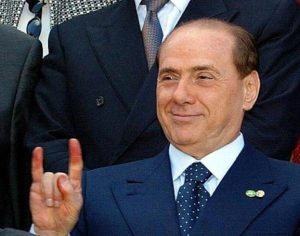 Your audience won't be engaged by a topic that's not true. Instead they'll be thinking, "That guy doesn't know sign language. He's only saying he does to set up some tricky punch line to show us how clever he is." Thus distracted, your audience won't laugh.
Or take this next joke, #20 in an article on CollegeHumor.com entitled "20 Puns Even People Who Hate Puns Will Admit Are Good":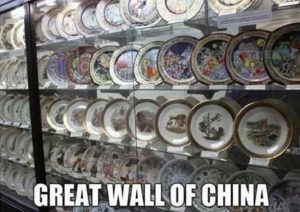 The punch line of that joke–the photo of the plates–is visual. A visual punch line can theoretically get a laugh. But that visual punch line won't because it's not surprising.
A good punch line is surprising.
In a well-constructed joke, the topic and the angle (also known as the setup) lead the audience in a particular direction. The laugh comes when the punch line veers off suddenly in a new, unexpected direction.
But in the joke above, the setup (the words "Great Wall of China") and the punch line (the photo of the plates) are both visible at exactly the same time. There's no surprise in that, no sudden revelation of a truth, just, again, a demonstration of the writer's cleverness.
But a punning joke that is well-constructed can get a big laugh.
For example, I wrote this joke and posted it on Comedywire.com:

One reason that joke got a lot of votes is that it follows the rules of good joke-writing. The topic rings true: celebrities actually did pose for those photos. Who would make up an odd news item like that?
And the punch line is surprising. The wordplay–"crabs"–arrives at the very end of the joke, only after the topic and angle have misdirected the audience.
So don't hate puns and other wordplay jokes. They're not all bad, just the ones that are badly written.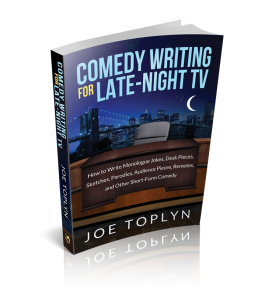 Finding a play on words in the joke topic is what I call Punch Line Maker #4. Learn five other Punch Line Makers, and many more comedy creation techniques, from my book, "Comedy Writing for Late-Night TV."