As a host of the Tonight show, Jay Leno was typically regarded by the media as dull, not edgy. For example, a February 2014 article by Daniel D'Addario on the website Salon bears the headlines: "Jay Leno thrived by being America's dullest man. With less edge than David Letterman or Conan O'Brien, Leno was the perfect host for one of the last huge franchises."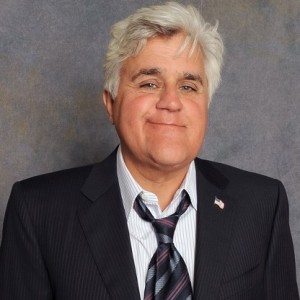 I never understood that "dull" assessment of Jay. One reason is that the main job of the host of the Tonight show is to keep the show number one in the timeslot. And that means appealing to as many American television viewers as possible. And that means performing comedy that most viewers want to watch, comedy that most viewers find interesting, the opposite of dull. A Tonight show host who most viewers actually found dull would soon be out of a job. And Jay realized that. So he put on a show that, as the ratings prove, wasn't dull. Year after year, it attracted the most viewers. Jay did his job.
I also never understood how the media could claim that Jay wasn't "edgy." Jay did a lot of risky comedy. For example, back in 1994 and 1995 he and his writers (myself included) regularly mined a grisly double homicide for jokes. I'm referring, of course, to the O. J. Simpson murder case.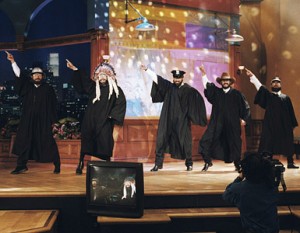 Think about that. Every night for months Jay invited the audience to laugh about aspects of a tragic, bloody act of butchery. Does that mean that Jay was "America's dullest man"? Not when one of the Tonight show's signature bits, the Dancing Itos, lookalikes for the trial's Judge Ito, made it into People magazine. Does it mean that Jay had "less edge" than the other late-night hosts? Not when Jay was the only one of them routinely wading into the dark and treacherous waters of homicide humor.
The fact is, the O.J. comedy on the Tonight show killed, in the "got huge laughs" sense of the word. It killed because it was edgy and the late-night audience at the time craved edgy. Jay gave most late-night viewers what they wanted to see.  Jay did his job.
And now O. J. Simpson is back in the news because this week is the 20th anniversary of that heinous crime, the prelude to The Trial of the Century. So, for old times' sake, I wrote this new O.J. joke: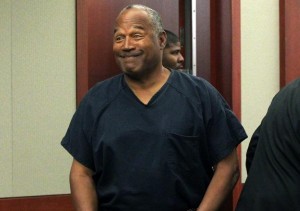 "According to a friend, O.J. Simpson has gained a lot of weight in prison. The good news is O. J. finally found the real killer…and ate him."
That was the job.
For more on how the Tonight show handled O. J. comedy, read my new book, Comedy Writing for Late-Night TV.